Top tips for a stress free house move
6th August 2021
Whether you have a large family, or you're sorting through your belongings in preparation for downsizing, moving home can be incredibly stressful and challenging.
In this blog post we will reveal some of our top tips to ensure your next house move is a smoother process.
1. Declutter your home – Do you need five different types of salad bowls? Before packing up your home, organise your belongings into a 'take' or a 'toss' pile. By discarding, recycling or donating old unwanted items, your house move will be quicker and less time will be required with a removal van.
2. Start packing early – Organising and sorting through your belongings can be challenging even for the most organised person, plus it can be overwhelming how many household items you can accumulate over the course of living in one property. To allow enough time, start packing several weeks in advance, starting with non-essential items.
3. Be specific when labelling – Unpacking and finding a home for everything can take just as long, if not longer than it took to pack everything up. Instead of labelling boxes as "kitchen" or "bathroom", be more specific for instance "cutlery and cups" or "cleaning products". By doing this, if you do need access to anything it'll make it easier to find them without sifting through multiple boxes.
4. Consider a professional removals company – It may be tempting to do everything yourself, however it's often underestimated just how many items need moving and the weight of carrying them. By hiring a professional removals company it can alleviate a lot of stress on the day.
5. Create a box for moving day – Pack items you may want immediate access to all in one box that you can access easily such as toilet roll, cups, tea and coffee, kettle and phone chargers.
6. Final meter readings – In the midst of moving day, it's easy to forget organising your utilities. Several days before, set a reminder on your phone to take final meter readings before leaving as this can help significantly when setting up the utilities in your new property.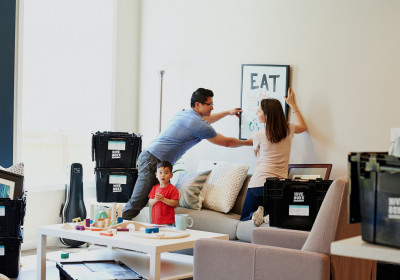 Looking for your next home?
If you're looking for your next property, we have two stunning properties available at our developments across West Yorkshire.
Stoneleigh, our highly sought after development located in the heart of Denby Dale, Huddersfield, has an idyllic, countryside setting and consists of six stunning homes, all of which are ideal for the growing family.
Furthermore, these spacious detached homes are designed to allow flexible family living so you can have your own dedicated office space whilst working from home.
However there is only one property remaining so best be quick!
Alternatively if you're looking to downsize, our development at 1 Degree West is the ideal setting. Situated in Fisher Green, Honley this complex is only a short distance away from a variety of local amenities. Boasting 2 bedrooms and 2 bathrooms, each apartment comes equipped with a range of high-spec energy efficient appliances.
Just one apartment remains which features a generous outdoor terrace that receives impressive sunlight. Additionally, we're currently offering a choice of incentives on this final property to assist you with your house move. Click here to find out more.
If you're ready to take the next step in your property search visit us online for more information or call our team on 01484 661787.
Get in touch
To discuss a land acquisition or commercial let contact us on
01484 661787
Quick enquiry
Thank you, we will be in touch shortly.
Latest news
TOP TIPS FOR A STRESS FREE HOUSE MOVE
Whether you have a large family, or you're sorting through your belongings in preparation for downsizing, moving home can be incredibly stressful and challenging. read more...
More news
Newsletter Signup
Thank you for signing up to our newsletter.