The Benefits Of Downsizing Your Home
6th November 2017

Think about your current home: how many rooms do you actually use on a regular basis? Have your children's bedrooms been left untouched since they moved out a few years ago? How often do you sit down to work in your home office?


Downsizing might seem unnerving at first, but if your home has outgrown you, moving into a smaller home that better suits your lifestyle can help you save money and make your life easier.
Save Money
The first benefit that comes to mind when you move into a smaller property is the money you can save.


The average cost of household bills and mortgages for a three bedroom home in the UK is almost £20,000 per year. So if you no longer need the space, you can downsize your house and use the money you save to boost your retirement income or spend on your grandchildren.
What Can You Save Money On?
Mortgage: If you are still paying a mortgage on your current home, selling and moving to a smaller house could dramatically decrease your monthly payments.



Maintenance: Maintenance costs can eat up a significant amount of your funds, especially if you live in an older home. A smaller home will require less upkeep, and if you pair this with moving into a new build, you won't need to spend time and money on repairs.



Heating Bills: Anyone who has lived in a large house will know how much you can spend on heating. In a smaller property you will have fewer rooms to heat and will therefore have smaller energy bills.



Furnishing: If you move into a smaller home, you can save a significant amount of money on furnishing and decorating over time. The less space you have, the less you will feel like you need to buy things to fill it. Moving into a smaller home will also make you more thoughtful about how you furnish each room, so you can be more creative with decorating and create a more unique and personal space.
Save Time
Think of the amount of time you spend on jobs around the house. The more rooms (and the more furnishings) you have in your home, the more work you need to put into making sure they stay clean and tidy. And if you have a large garden, mowing the lawn and tending to flowers can eventually start to feel like a chore.


Downsizing can take away a lot of the burden of cleaning a large house. And if you choose a home with a small garden or an apartment with a balcony, this can make your life much easier and free up more of your time for leisure activities.


Without the hassle of as many household chores, you will be able to enjoy your home and focus on the things you love doing.
What To Do Before You Move
Declutter
When you downsize, you will need to carefully consider which of your possessions you will keep, and which you need to say goodbye to.


Go through each room of your house and make a note of the items you can't live without and which items hold the most sentimental meaning and value.



Measure any large pieces of furniture and compare the size to the space you are moving into. Make sure you only keep pieces that will comfortably fit and have a place in your new home.



Work your way through everything else and cut down what you own - you can sell, give away or donate to charity any items that won't have a place in your new home.
Be Mindful Of Location
One of the most important aspects of buying a new home is where it is located. While you may love the idea of retiring to a remote countryside location, this may not always be the most practical.


When you downsize, be sure to find somewhere closeby to local amenities such as GP practices, shops and local restaurants. Also consider the transport links in the area - it can be difficult to travel to and from home (especially in bad weather) if you live in too remote a location.


Our local area guides outline all the healthcare, dining, entertainment and travel links that are closest to our properties.
Introducing 1 Degree West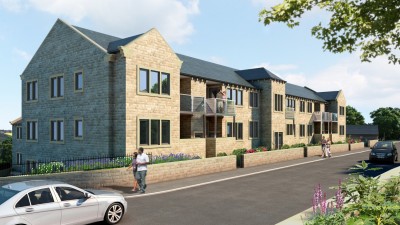 1° West is our new exclusive development of just 17 apartments in the desirable location of Honley Village in Holmfirth. With two bedrooms and bathrooms (including one en-suite) and spacious living/dining areas, 1° West is the perfect location for those looking to downsize.


Each apartment will feature either a terrace or balcony to provide a peaceful outdoor space. They will all be finished to the exceptional specification that is expected of an Eastwood Homes property, with high-quality fixtures and fittings throughout.

Situated on Fisher Green in the heart of Honley, the apartments are close to the popular shops, restaurants and other amenities. For further information on the area, read our Honley area guide.
For more information on the apartments, download the floorplans, email us at info@eastwoodhomes.co.uk or call Michael Eastwood on 01484 689509.
Get in touch
To discuss a land acquisition or commercial let contact us on
01484 689509
Quick enquiry
Thank you, we will be in touch shortly.
Latest news
FINAL HOMES AVAILABLE IN THONGSBRIDGE AND KIRKHEATON
We're down to the final homes available at our Church View, Kirkheaton and The Bridges, Holmfirth developments! read more...
More news
Newsletter Signup
Thank you for signing up to our newsletter.