5 Benefits of Buying a New Build Home
10th January 2018
Buying a new home is a huge decision, and it's important that you make the right choice. Whether you're buying your first home, downsizing, or moving to accommodate a growing family, you might want to consider a new build property. But what are the benefits of choosing a new build?
1. No Redecorating
A major benefit of moving into a new build is just that - you will be the first person to have ever lived here. You won't need to spend time and money redoing the previous owner's decorating - new builds are great for buyers looking for a blank canvas.
In fact, if you buy a home 'off-plan' and reserve it early enough in the build process, you might be given a choice of fixtures and fittings, making a new property much more personalised to your taste than a second hand home would be.
2. New Appliances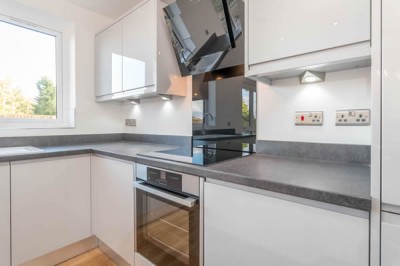 Following on from the previous point: with a new build, you also won't need to worry about replacing any old or damaged appliances.
With a second hand home, you can't always be 100% sure just how well appliances work until you're living there. But with a new build, you'll have the peace of mind that any appliances will be brand new so you should be able to go a few years without needing any repairs or replacements.
3. Warranty
We hope you'll never need it, but if you buy a house from a developer that's registered with the National House Building Council, the property will come with a 10-year warranty that covers any structural defects.
4. Less Stressful
There are no upwards chains when you buy a new build property. Because your move won't be dependent on a previous owner, the process will be quicker and much more straightforward. As soon as the house has been built and signed off, it's yours.
5. Energy Efficient
Houses are built to much higher standards now than they have been in the past, especially when it comes to energy efficiency. Cavity walls, double glazed windows and better insulation all help reduce the energy consumption of a newer property. In fact, the average new home is up to six times more energy efficient than a second hand home, meaning that you are likely to save a significant amount on your utility bills in a new build
If you're searching for your next home, take a look at our current new build developments in Huddersfield and Holmfirth, or contact Eastwood Homes at info@eastwoodhomes.co.uk.
Get in touch
To discuss a land acquisition or commercial let contact us on
01484 689509
Quick enquiry
Thank you, we will be in touch shortly.
Latest news
FINAL HOMES AVAILABLE IN THONGSBRIDGE AND KIRKHEATON
We're down to the final homes available at our Church View, Kirkheaton and The Bridges, Holmfirth developments! read more...
More news
Newsletter Signup
Thank you for signing up to our newsletter.